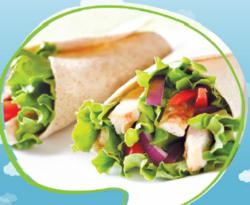 Boulder, CO (PRWEB) August 13, 2012
Rudi?s Gluten-Free Bakery has a surprise for gluten-free food lovers with its new What?s Under Wraps Facebook campaign. For three weeks starting today, Aug. 13, Rudi?s Gluten-Free Facebook fans can guess what kitchen gizmos are wrapped in the new Rudi?s Gluten-Free Tortillas for a chance to win what?s underneath. Additionally, once fans ?like? Rudi?s Gluten-Free on Facebook, they can receive a $ 2 off coupon to try out the three Gluten-Free Tortilla flavors?Plain, Spinach and Fiesta, and also gain access to new tortilla recipes revealed each day. Rudi?s Gluten-Free was founded on the optimistic idea that you don?t have to give anything up to go gluten-free, so celebrating its new line of Gluten-Free Tortillas makes perfect sense.
Once fans ?like? the brand and get access to the $ 2 off coupon, they can click on the giveaway tab and guess what new prize is wrapped under the scrumptious, new tortillas. Once a fan has submitted a guess, they?re automatically entered to win the daily prizes?no correct guess required. Prizes include a Cuisinart Stainless-Steel Ice Cream Maker, Bella Quesadilla Maker, Tiago Tortilla Warmer and a Le Creuset Dutch Oven, and of course, new Rudi?s Gluten-Free Tortillas. Each daily winner will be chosen at random and announced on Facebook the following day.
To help inspire some added creativity in the kitchen, the What?s Under Wraps Facebook application also includes a daily recipe reveal featuring recipes made with the different flavors of Gluten-Free Tortillas, including recipes like Dessert Nachos, Mini-Mexican Pizzas and Picnic Tortilla Roll-Ups. All recipes were created by Rudi?s Gluten-Free experts to maximize the taste and texture of the new Gluten-Free Tortillas.
?We take great care and pride in baking delicious gluten-free products that taste and feel like the real thing, and our new campaign is meant to inspire gluten-free fans with cheerful prizes and delectable tortilla recipes,? said Doug Radi, senior vice president of marketing and sales for Rudi?s Organic Bakery. ?We hope our daily giveaway will help brighten the day for all of our fans and inspire some fun in the kitchen.
Rudi?s Gluten-Free products are free of artificial ingredients, preservatives and genetically modified organisms (GMOs), including the new Gluten-Free Tortillas. The Tortillas are made with whole grain flours and have a soft, pliable texture, ready to be rolled into a delicious burrito or tasty sandwich wrap. To satisfy everyone in the family, the Tortillas are available in three varieties, each made with simple and wholesome ingredients, including whole grains and 5 grams of fiber per serving. The three flavors include: