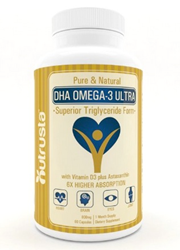 Vancouver, Canada (PRWEB) July 01, 2014
Nutrusta (TM), a brand of pure and bioavailable natural supplements, announces the launch of its new Omega 3 fish oil product, Nutrusta DHA Omega 3 Ultra (TM) available on Amazon.com. Nutrusta believes everyone can feel the benefits of this pure triglyceride fish oil and is offering free shipping for a limited time to encourage more people to try it. Consumers can learn more about the product and purchase at

http://www.amazon.com/Nutrusta-Triglyceride-Astaxanthin-Clinically-Proven-Technology/dp/B00KFOUTQ6/ie=UTF8?m=A92U9LBNE2DFX&keywords=omega+3+fish+oil.
According to Nutrusta, DHA Omega 3 Ultra is different from other fish oil due to its high solubility and absorption. The Omega 3 fatty acids are absorbed up to six times better than regular fish oil due to the patented delivery technology.
Typically, a large percentage of fish oil molecules are lost during the digestion process?because they need to be broken down in the stomach, meaning very little gets to the small intestine where the nutrients can be released in the blood stream and absorbed by the body?s cells.
Nutrusta DHA Omega 3 Ultra fish oil uses a process that micronizes and wraps the fish oil molecules in a water droplet and sends it past the digestive process to the small intestine where almost 100-percent can be absorbed.
Additionally, Nutrusta is proud to offer a 6 to 1 DHA to EPA ratio while almost all other fish oils are dominant in EPA. Human cell membranes contain 5-10 times more DHA than EPA and compelling research shows that DHA is the most important fatty acid that provides the critical health benefits to the eyes, heart and brain.
Nutrusta DHA Omega 3 Ultra also includes Vitamin D3 and Astaxanthin. Vitamin D3 is not only essential for strong bones, it supports cell growth and helps in DNA repair. Astaxanthin is an especially powerful antioxidant found in microalgae and krill and is shown to support eye, brain, joint and skin health, healthy blood sugar levels, and endurance and weight control.
About Nutrusta:

Nutrusta (TM) offers the purest natural supplements and super foods in the most bioavailable form the body can use. Learn more: http://www.nutrusta.com/pages/dha-omega-3-ultra.