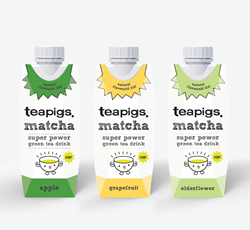 Brentford, UK (PRWEB UK) 2 July 2014
POW! This summer teapigs NEW MATCHA – SUPER POWER GREEN TEA DRINK will be landing in a chiller cabinet near you. Available in three thirst-quenching flavours; apple, grapefruit and elderflower, this super hero of a drink contains your daily serving of teapigs matcha, blended with zingy fresh fruit juice and natural spring water, all inside a natty, re-sealable carton, for minimum hassle and maximum taste.
The magic of matcha is no secret – made from just one ingredient: 100% green tea leaves ground to a fine powder, this ?super power green? phenomenon has up to 15 times the nutritional value of regular green tea and provides multiple benefits to the body, mind and soul. The high levels of amino acid L-theanine found in teapigs matcha help to raise energy levels whilst also keeping the person calm and focused, which is why matcha is drunk by Buddhist monks to aid meditation. Like all green tea, matcha is also known to help boost metabolism and burn fat ? so it?s often drunk before exercise.
So, whether people are in need of a cheeky mid work pick-me-up, daily health kick, pre-workout energy boost or just a little something to keep those concentration levels up, teapigs matcha green tea drink is here to the rescue! And, with no added sugar and less than 32 calories per 100ml, a guilt-free bucket load of sprightliness can be added to the day.
Louise Cheadle, Tea Taster at teapigs comments: ?Since launching our pure matcha powder (30g/80g tin) in 2008 it has been flying off the shelves with sales increasing every year. With the trend showing no sign of abating, we have now created our teapigs matcha green tea drink to make it even easier for everyone to get their daily matcha dose on-the-go.'
-ENDS-
Notes to Editor:
For further P.R. information or images please contact: Olivia Blundell or Bianca Eglinton at team TASTE on 0207 242 2844 or oliviab(at)taste-pr(dot)com / bianca(at)taste-pr(dot)com

teapigs? matcha super power green tea drink is available in apple, grapefruit and elderflower, RRP: