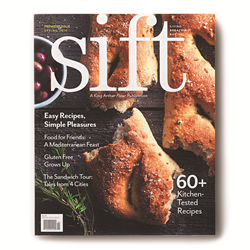 Norwich, Vermont (PRWEB) February 24, 2015
King Arthur Flour, America?s oldest flour company, announced today its launch of SIFT Magazine, a publication to educate and inspire people through the art and craft of baking. It is filled with beautifully written stories, rich photographs, and carefully tested recipes that will make readers want to roll up their sleeves, don their aprons, and dust their hands in flour.
SIFT Magazine is the company?s first foray into the world of special interest publications. Headed by Susan Reid, editorial director, and Ruth Perkins, creative director, the magazine showcases over 60 high-quality recipes, along with lifestyle features that highlight what?s happening in the areas of food and baking.
?Our curiosity for the connections people make through food and baking is endless. We wanted to celebrate and spread the positive energy around making great baked goods and wonderful meals,? said Reid.
The inaugural edition was released on February 24, 2015. Nearly 100,000 copies were distributed to all major newsstands across the United States. Two more issues will be released in 2015 ? the Fall issue will hit newsstands on August 25 and the Holiday issue on October 26.
?SIFT?s aesthetic and tone is not only fresh and contemporary, but it is also accessible,? said Perkins. ?By understanding that stunning imagery is just as important as captivating content, our aim is to continually stir one?s imagination and encourage readers to try something new.?
Features and Highlights:

108 pages, with minimal advertising
Available for $ 12.95, at all major newsstands and online at kingarthurflour.com/sift
Spring Celebration Breads, with recipes for Colomba Pasquale, Hot Cross Buns, Greek Tsoureki, Paska, and Babka
A City Tour of Sandwiches from Chicago, New Orleans, Philadelphia, and Los Angeles
A Mediterranean Feast, with recipes for cocktails, mezze, main dishes, and desserts
Advice and Techniques for Bakers plus Things We Love ? from Cookbooks and Apps to Tools
Grown-up Gluten-Free Recipes
Two Distinct Profiles on a Bee Keeper and Maple Sugarmaker
Attached recipes and photos may be reprinted with attribution to King Arthur Flour.
About King Arthur Flour

Celebrating its 225th Anniversary, King Arthur Flour is America's oldest flour company and premier baking resource, offering ingredients, mixes, tools, recipes, educational opportunities, and inspiration to bakers everywhere since 1790. The company's high-quality flour is available in supermarkets nationwide. Additionally, more than 1,000 tested and trusted baking tools and ingredients are available through King Arthur Flour's Baker's Catalogue, online at kingarthurflour.com, and at The Baker's Store in Norwich, Vermont. King Arthur Flour has been 100% employee-owned since 2004 and became a founding B (Beneficial) Corporation in 2007.
###
Find More Gluten Free Recipes Press Releases